2AZ Engine Assembly
09-10-2013, 03:03 AM
Senior Member
SL Member
Join Date: Aug 2009
Location: milton
Posts: 1,941
---
Any requests please post here
04-07-2015, 11:26 PM
Junior Member
Join Date: Mar 2015
Posts: 2
---
Quick question.... What is the crankshaft end play measurement?


I have an 08 tc Heard a noise that sounded like worn out timing chain after changing the oil. So pulled the motor and for d out one of my thrust bearings fall out of place and ate the shaft balancer gear up. So I have looked everywhere for the specs on the crankshaft end play can't find it. Thanks in advance
04-08-2015, 05:17 PM
Moderator
SL Member
Moderator
Join Date: Nov 2005
Location: NJ
Posts: 880
---
Is this what you are looking for? FYI, this is for an 05 tC. Not sure if there are any differences with an 08.
06-03-2015, 02:08 PM
Junior Member
Join Date: Jun 2015
Posts: 1
Lifters
---
Originally Posted by
trd07tc
Cylinder Head Assembly


Were starting with a bare cylinder head with valve guides. I am using complete stock valvetrain.
*Your valves should have been lapped already to each seat*
Lets install the valve seals
Put a light coat of our ND oil on the inside of the valve seal. I use a magnet to grab them then push them onto the guide. It doesn't require much force they install easily.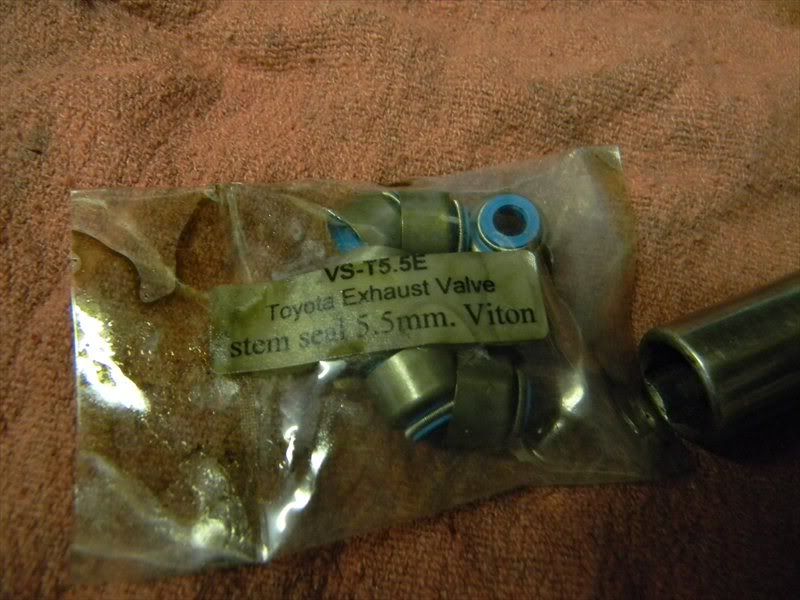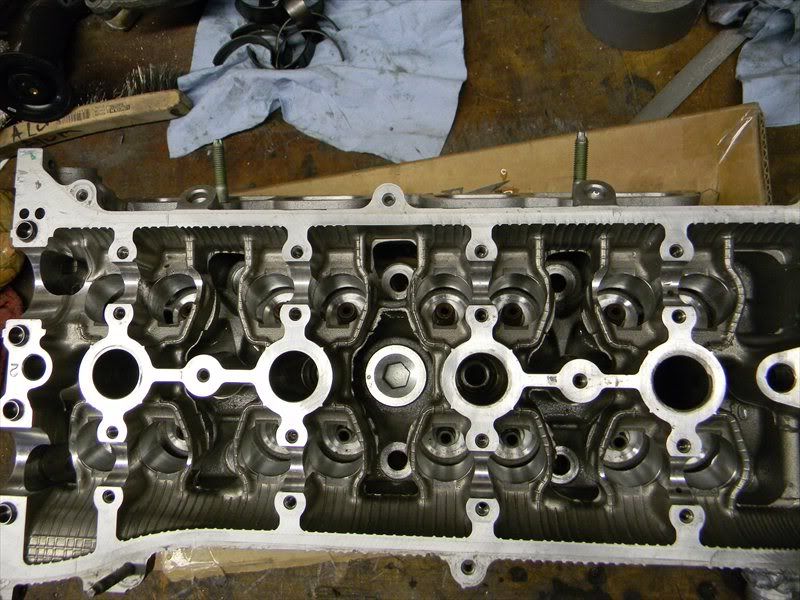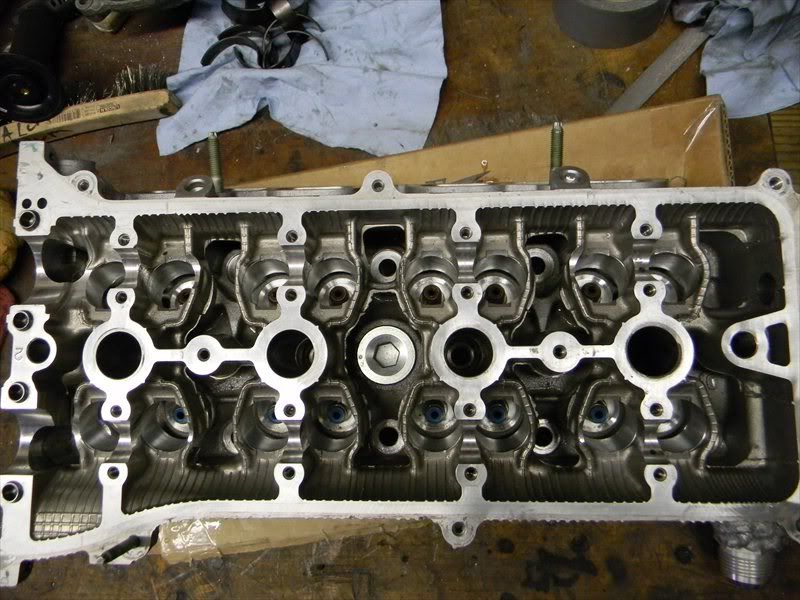 Drop in the valve spring seats
Next you are installing the valve, valve spring, retainer, keepers
Doing 1 cylinder at a time
Install the 4 valves with a light coat of ND oil on the stems and put something under them to keep them from moving down while compressing the spring. I use a huge ball of rags taped up.
You need to have the spring with the reatainer on top with the keepers inside the retainer.
You need a valve spring compressor tool. Put the tool inside the retainer where the keepers are and push them down onto the valve until they lock.
It will take a few tries but you will get it
Now install the cam caps. I put my ND oil around it and on top. I install them with a magnet.
We will put the camshafts and cam caps on once the head is installed onto the block
We recently rebuilt a 05 tc that had a blown head gasket and a egged valve we have no compression my boss was wandering if you have to remove the fluid from under the lifters and do we have to get new cam caps please help thanks.
06-13-2017, 04:23 AM
Junior Member
SL Member
Join Date: Jun 2017
Posts: 4
Balance Shafts
---
How has the engine vibration level been without the balance shafts? Great tutorial by the way. Thank you!

Preston,
Clearwater, Florida
06-27-2018, 01:34 PM
Junior Member
Join Date: Jun 2018
Posts: 1
Main torque note
---
IMPORTANT - Main caps should be torqued to 30 ft lbs PLUS 90 degrees. I used factory bolts with no problems.

Nice write-up overall. Thanks

Good luck to all building 2.4 motors
06-28-2018, 05:03 AM
Junior Member
Join Date: Jun 2018
Posts: 1
---
I'm looking to rebuild my engine but literally do not have much clue as to what I am doing. Is there anyone here in the DFW area that could possibly assist. I would be more than will to compensate them for their time
06-28-2018, 04:09 PM
Senior Member
SL Member
Join Date: Jun 2016
Location: TX
Posts: 115
---
im in dallas. What part of the rebuild are you having problems with?
i havent rebuild the tc motor yet but build a few other motors before.
11-06-2018, 06:28 PM
Junior Member
SL Member
Join Date: Nov 2018
Posts: 9
What are the torque specs for the rod bearings
---
Originally Posted by
trd07tc
2AZ-FE Engine Assembly

This is a breakdown of how I assembled my engine. Not every single bolt is shown. You can use this as a guide if you want or if you need any assistance simply post in this thread. Take this guide and do what you want with it. I did not create it to get into arguments on engine assembly so do not take this thread in that direction. You have your methods I have mine. I am not responsible for what you do to your car.

Parts/Supplies List

WD40
Brake cleaner (2-3 cans)
Paper towels (2 rolls)
30 weight non detergent oil (5qts)
Valvoline 10w30 oil (5qts)
Synthetic oil of your choice (5qts)
3 Toyota oil filters 90915‑10004
Drain plug gaskets 90430‑12031
Toyota camshaft housing/oil pan sealant
Toyota: Oil pump gasket 15119‑28020
Toyota: Oil strainer gasket 15193‑28010
Toyota: Rear main seal 90311‑89003
Toyota: Front main seal 90311‑38089
Toyota: O-ring for shortblock (pictured) 96761-24020
Toyota: O-ring for dipstick tube 96721‑19010
Toyota: 16 valve spring seats
Toyota: intake cam bearings – upper, lower
Toyota: Exhaust manifold gasket
Toyota: Intake manifold gasket
Toyota: Throttle body gasket
Toyota: O-ring for VVTI
Toyota: Timing chain tensioner gasket
Toyota: O-ring for Cam Position Sensor
Toyota: O-ring for Crank position sensor
Toyota: Oil pressure relief valve plug filter 15678‑28010
Toyota: Valve cover gasket 11213‑28021
Piston Set with rings
Connecting rod set with rod bolts
Main bearing set
Rod bearing set
Thrust washers
ARP assembly lube
Permatex Ultra Slick/Torco assembly lube
Thread sealant
Red threadlocker
ARP head studs
Head gasket
Piston ring compressor (not the adjustable ones)
Valve Seals
Valve Grinding compound
Valve lapping tool



Tools List

Complete socket set
Complete wrench set
30mm 12pt deep socket (axel nuts)
12mm allen key (oil filter stud)
12pt ˝ inch deep socket (head studs)
12pt 7/16 socket (rod bolts)
12pt 14mm socket (main caps)
Torque wrench
3/16 allen key
Magnet


Torque Spec & Clearances Quick Reference Guide

ARP Head Studs - 75ft-lbs final. 3 step sequence
OEM Main Bolts - 30ft-lbs final. 2 step sequence
ARP Rod Bolts - 25ft-lbs final + 55 degrees. 2 step sequence

Main bearing clearances - Recommended .0014-.0018
Rod bearing clearances - Recommended .0015-.0020
Valve lash clearances - Intake - .007 - .011 / Exhaust - .015 - .019

Looser tolerances will be a bit more forgiving (to a point) but will also make more noise and cost a bit of power (again to a point). More power = more heat = looser tolerances.
Hi, what are the torque specs for the rod bearings
Thread
Thread Starter
Forum
Replies
Last Post
Exclusive Sponsored Sales
Scion tC 1G Owners Lounge
Scion tC 1G ICE & Interior
Scion xB 2nd-Gen Owners Lounge
Scion tC 1G Drivetrain & Power