Original 1st Gen owners
10-29-2015, 12:27 AM
Member
SL Member
Join Date: May 2006
Location: Okemos, Michigan
Posts: 60
---
Originally Posted by
bB2NER
Well my 05' got totaled a year ago and thought I could live without a box. Replaced it with an 03' Yukon. The Yukon is awesome but didn't mean the same to me as the box.
Found a one owner Shadow Mica 06' a week ago for 7k with only 65k miles. This time I went stick. The auto was kinda boring.
You'll love the 5 speed manual. I've enjoyed all the 258,000+ miles on mine.
11-04-2015, 06:40 PM
Senior Member
SL Member
Join Date: Dec 2003
Location: Lake Jackson, Tx
Posts: 1,018
---
After a two year hiatus from my xB, I'm buying it back from the people I sold it to. So I guess I'll be an original owner again! I originally bought it brand new back on 2/4/2004.
01-27-2016, 11:06 PM
Junior Member
Join Date: Jan 2016
Posts: 1
---
I bought my 2006 xB brand new. I still love it! It has few issues (AC and front cover). It's been paid for and I'll drive it till it dies!
02-07-2016, 05:07 AM
Senior Member
SL Member
Join Date: Oct 2005
Location: kitchen stadium
Posts: 616
---
Bought mine on August 5th, 2003. They only had them in California then. I still have it and will never get rid of it. It's now a second car for me, but I still love it.
02-11-2016, 05:38 AM
Senior Member
SL Member
Scion Evolution
Join Date: Jan 2004
Location: In the Hot Tub
Posts: 5,735
---
I bought mine in December 2003. Popped a head gasket at 255K, last year. I pulled it into my garage and threw a used 1NZFE in it. I'm almost at 270K now. Other than my wife's 2015 Tacoma, I haven't seen anything that made me want to stop driving the xB. It's not in the same great shape that it used to be but it's still close. Only one door ding and it was me tapping a light pole. Tore the CF front lip off hitting a road gator. Won't be long until it's a collectible.
Besides the vehicle itself, I got so much out of owning a Scion. A great community of people, amazing trips and experiences. In addition to numerous Scion Nights at Marine World, parties hosted by Scion and prime spots at major car shows, I got flown to Miami and got to see Ludacris. Drove to Las Vegas and got to see Flo Rida while they used our cars for the Scion United ads. Mine's front and center and is the only car in the whole pic that still has its license plates, so I can prove its mine!
Wow, I've never seen this version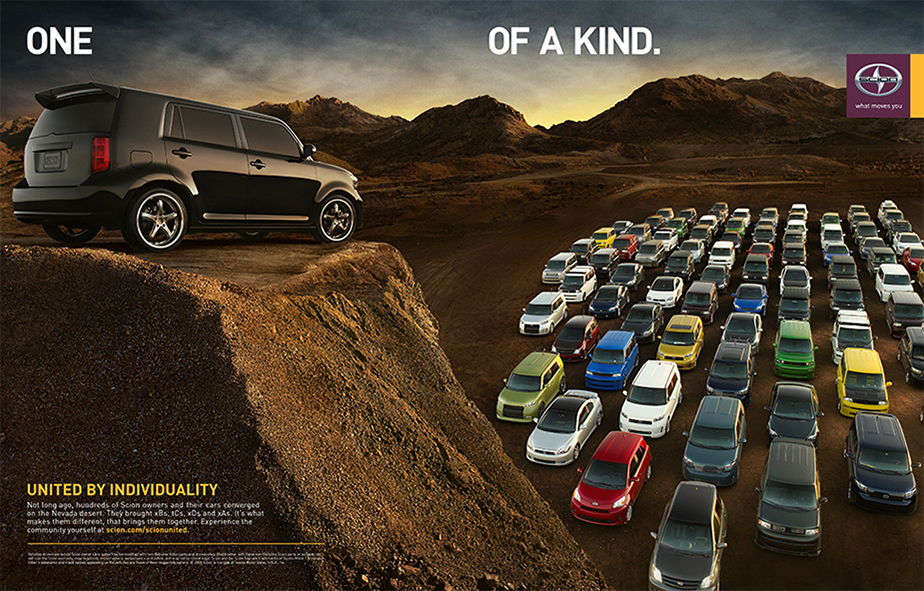 Also, they make a Hot Wheel of my car. How many people can say that?
02-20-2016, 05:22 AM
Senior Member
SL Member
Join Date: Jul 2003
Location: North Los Angeles County
Posts: 2,627
---
Our '04 is still humming along at ~190K. Total repairs have been one rear wheel bearing, one door lock actuator, a few belts, brake pads, tires and spark plugs. Still on original windshield.

Sadly, it's new driveway companion is not a Scion. It's a '16 Honda Fit. Toyota no longer sells anything in the US that can match the utility and economy of Honda. After years of sitting up proud in the xB I'm not fond of the looks of the Fit, but you can put real people in the back seat and carry a lot of stuff behind them while still getting MPG in the mid-30s without babying the throttle.
07-31-2016, 02:36 AM
Junior Member
SL Member
Join Date: Apr 2004
Location: Fresno, Ca
Posts: 3
Still have 2004 xB original owner
---
The box keeps running. I echo the observations of others, change the spark plugs and belts and fluids. Currently at 72k and while the drivers door actuator is not working, I don't mind using the key. I plan to drive it till it can't be driven any more...
08-01-2016, 05:32 AM
Senior Member
SL Member
Join Date: Jun 2004
Location: USA
Posts: 108
---
Proud xB owner here still. 2005 BSP xB 5 speed. Only mod I did was the TRD short shifter, still loving it. Ordered mine in May or June of '04, took delivery with 1 mile on it (the NERVE) in mid August of '04 (if memory serves).

Over 163k miles, only issues I have had was water pump (& thermostat) about 80k miles, out of warranty, but dealer still covered it and gave me a loaner. Couple years back had a HUGE drop in power with a CEL, assumed it was the stock spark plugs that bit the dust at 130k miles, replaced them, no changed. Looked up the CEL code, swapped ignition coil on 2nd from left cylinder, and issue resolved.

Currently out of commission in the garage, HOPING it is bad water pump, over heat indicator the other day, engine bay POURS heat out of grill after even a short drive, and leaking coolant in the garage. Waiting for replacement parts to arrive. Also, stock exhaust finally gave out, currently working to get that replaced, but that's another thread, lol.
Thread
Thread Starter
Forum
Replies
Last Post
Scion xB 1st-Gen Owners Lounge